Hey there! With all this talk of the Golden Globes (YAYYY, GLEE!), I've been thinking a lot about how celebrities inspire fashion trends, and our country's style in general. It's pretty fascinating to think about, really.
And, naturally, I began to think about who I look to for inspiration when it comes to my style. Well, as I started to compile my list, not only were there a lot of people, but half of them were fictional... So I decided to break this into a couple parts.
Part 1 will be my fictional style inspiration. Part 2 my real-life style inspiration. And Part 3 the time periods that I am most inspired by. However, I'm gonna spread them out so it doesn't get boring.
Ready? Okay!
First up is everyone's favorite girl-detective, Nancy Drew.
She has a very classic, timeless look; I aspire to be like Nancy.
And then, of course, there's the modern-day interpretation of Miss Drew, played by the lovely Emma Roberts.
Next is a character from one of my favorite TV shows, Rachel Berry. While I don't necessarily envy her diva personality, her knee socks and cable-knits are definitely my kind of wonderful.
(I'll have to admit that she's the one who has inspired me to try knee socks.)
Another Glee lovely,
Emma Pillsbury
(who I know I've mentioned
before
) is adorable in her bright colors and statement jewelry.
Everyone's favorite mean girl, Blair Waldorf has a style all her own. I admire her use of bright colors and wish I was that daring. You can't forget the coats and headbands! To-die-for!
Lena Kaligariis was always my favorite member of the Sisterhood of the Traveling Pants. Her soft-spoken-ness and innocence, as well as Alexis Bledel's gorgeous blue eyes, always made me partial to her character. "Lenny", as they call her, has a classic style that shines. (Confession: Sometimes, I watch the second one just to admire the clothes she wears.)
This blue dress is one of my favorites.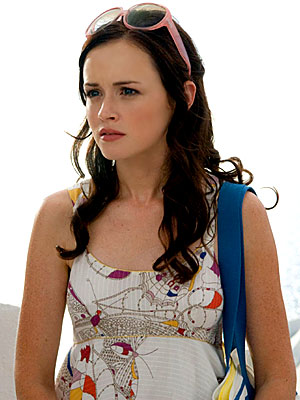 But this is my absolute favorite. It's the only picture I could find, but isn't the pattern so simple and pretty?
Alexis Bledel always seems to play my favorite characters... Rory Gilmore's prep-school style always manages to make her look classy, put-together, and ready for anything.
Do you have any fictional characters that you turn to for style advice, or am I the only crazy one?
Have a great Wednesday!
xoxo,
P.S. All images were found via Google Images.