Let me just preface this post by saying I am a complete, total, and utter nerd.
That said, it's pretty obvious that I LOVE books. (You can read about my borderline unhealthy obsession with Harry Potter
here
.)
But yeah, so I absolutely love reading. I would read all day, everyday if I could. Unfortunately, that's just not possible. I do manage to squeeze in a little pleasure reading every now and again, and I'm currently reading Divine Secrets of the Ya-Ya Sisterhood, by Rebecca Wells.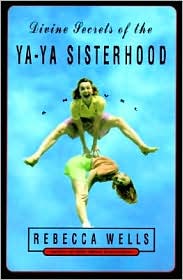 It's really good, so far. I love the way it switches point-of-view a lot... Kind-of like Jodi Picoult's books, but not as organized. Anyway, it's fantastic so far, but I'll let you know what I think at the end.
So I love books, I've said that. I also love book stores. But, my favorites are libraries. I think they're, quite possibly, one of the most amazing things ever invented. I mean, who came up with such a genius idea? You sign up, you pay your five bucks for a card and then you can check out AS MANY BOOKS AS YOU WANT. It's phenomenal! (I warned you... Huge nerd.)
Story time: So this summer, I was taking an online Health and PE course (don't even get me started), and so I had to spend like, two hours a day, everyday at the gym. Needless to say, I maxed out the check-outs on my card... and my mom's card... and my little brother's card. (That's 90 books.) I had to take multiple trips in and out of the building to get them all in the car. But I love the excitement that comes with a stack of books, and trying to decide which one you want to read first.
It's not really completely my fault. My grandma was a school librarian for a long time. Another story: You know James Taylor, like, the singer? Yeah, well she was his librarian in elementary school. Just sayin'.
Okay, so onto my point. I've yet to make a trip to the library, but here are just a few of the books on my list:
~Roses, by Lelia Meacham
~Mini Shopaholic, by Sophie Kinsella
~Commencement, by J. Courtney Sullivan
~Prep, by Curtis Sittenfeld
Any recommendations? What are your latest favorites?
Have a great holiday Monday! I know I'm enjoying not having to be at school today! Is anyone doing anything exciting today?
xoxo,